Today I'm going to give you some guidelines and tips for buying a ukulele in Hawaii.
There's a lot to consider when buying a uke in Hawaii – and planning a trip is hard enough! Lucky for you, I've already done the research.
Let's dive right in!
How Much Ukuleles Cost in Hawaii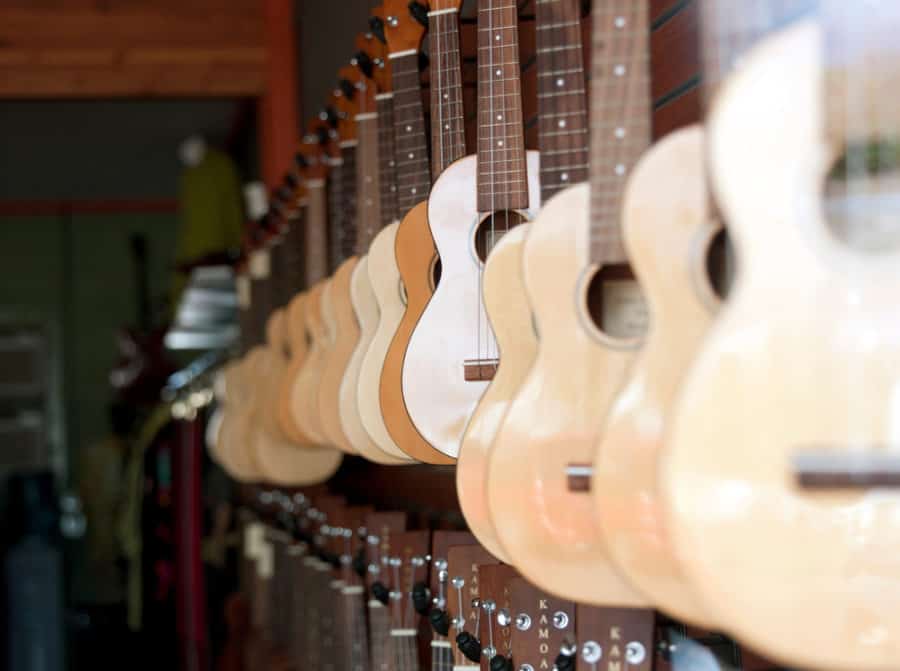 I'll start with a quick summary:
Ukuleles in Hawaii are sold as cheap souvenirs, entry-level instruments, and high-end Hawaiian-made instruments. Expect to pay $150 to $500 for a decent ukulele made in Hawaii and $1,000 to $4,000 for a top tier instrument made with Hawaiian koa. Consider purchasing a Hawaiian brand or buying from a local artisan.
But which option is best for you?
First, you need to determine what your ukulele will be used for. Is it going to be a decoration or a toy for a child? Or do you plan to play it?
Next, you need to decide exactly how "Hawaiian" you want your ukulele to be. Are you okay with simply purchasing a ukulele in Hawaii for the novelty? Or do you want it to be locally crafted out of 100% native materials, carrying the very essence of the islands?
Once you've answered these questions, you must decide how much you are willing to pay. The cost of Hawaiian ukuleles varies significantly.
Hawaiian Ukulele Price Guide (Summary)
Here's a brief summary of what you'll typically get at each price point for a Hawaiian Uke:
| | | | |
| --- | --- | --- | --- |
| Price Range | Specifications | Hawaiian-Made | Hawaiian Wood |
| $20 – $30 | Souvenir only | No | No |
| $50 – $300 | Entry-level uke | No | No |
| $150 – $500 | Entry-level uke | Yes | No (usually) |
| $1,000 – $4,000 | Solid top uke | Yes | Yes |
| $1,000 – $13,000 | Artisan/custom uke | Yes | Yes (usually) |
And below, I'll break down each price points in more detail to help you make your decision. Let's start with the cheapest option and work our way up in price:
1. Cheap Souvenirs
The ukulele is symbolic of Hawaii, right up there with leis and Hula dancers. If your goal is simply to pick up a memento that captures the spirit of the islands, then there are a great many affordable options for you.
Souvenir ukuleles typically cost between $20 and $30 and are available at local Hawaiian ABC Stores, Hawaiian swap meets and flea markets, and even at hotel gift shops.
These are brightly colored instruments – usually made of plastic – and often feature Hawaiian décor like hibiscus flowers, sea turtles, palm trees, and depictions of the Hawaiian archipelago.
Be warned, though, these ukuleles are rarely playable. Most of them are poorly made and will not hold their tuning. On occasion, you will get lucky with a halfway decent instrument that stays in tune. But most souvenir ukuleles are best-suited as wall hangers or toys for children.
2. Entry-Level Ukes
Perhaps breathing all the Hawaiian ocean air has inspired you, and you simply want to buy a ukulele to take home and play. You'd also like to tell everybody that you got it in Hawaii when you break it out at parties.
There are many reasonably priced entry level ukes available in Hawaii. Similar to the mainland USA, expect to pay at least $50 -$100 for a ukulele that is playable and will stay in tune. Ukes in this range will typically feature laminate tops, that is, the soundboard is constructed by gluing many layers of wood together.
This is perfectly fine for a starter instrument, and laminate ukes are more tolerant of low humidity which can be a plus. Changing the strings can improve a laminate uke's sound tremendously.
If you want a higher end beginner ukulele, look for instruments with solid tops. These ukes are constructed using a single piece of wood for the soundboard which results in a better tone. Beginner-level solid top ukuleles will cost between $100 and $300.
Be sure to buy a case humidifier or keep these instruments in a room with humidity between 40% and 60% as solid tops are prone to damage when kept in low humidity.
Great brands to check out in this range include: Kala (and their budget Makala line), Lanikai, aNueNue, Ohana, and Lohana.
Note: Despite their names, these ukulele brands are not made in Hawaii. If that is important to you, keep reading!
3. Decent Hawaiian-Made Ukes
If you want a Hawaiian ukulele that is actually made by local luthiers in Hawaii, expect to spend a little more.
Hawaii isn't that big, and there are only a handful of skilled craftsmen building ukuleles that the whole world wants! Luckily, most Hawaiian ukulele brands now offer affordable starter ukes.
Still, the high demand for Hawaiian ukulele luthiery skills drives the cost up slightly. Expect to spend $150 to $500 on an entry-level ukulele that is made in Hawaii.
Budget Hawaiian ukes are well-made and are great instruments. However, they are often designed by Hawaiian luthiers but assembled in other countries, like Indonesia and Thailand.
To keep the cost down, they are typically constructed using foreign parts and woods not native to Hawaii, like mahogany, rosewood, spruce, and cedar. They are still more authentically Hawaiian than your average uke, though.
Great brands in this range are: Pono (made by Ko'alau), Islander (made by Kanile'a), KoAlana and Opio (made by KoAloha), and Hula (made by Mele Ukuleles).
4. High-End Hawaiian-Made Ukes
If you are seeking the most authentic Hawaiian ukulele experience possible, you will need a uke made out of a native Hawaiian wood that is fully designed and assembled by local luthiers.
Koa is the most sought after of the Hawaiian woods for its near-perfect tonal qualities that give native ukes their warm, mellow sound.
Unfortunately, koa is becoming more scarce due to high demand and there are limits on how much can be sustainably harvested each year. On top of that, only 1-2% of harvested wood is suitable for instrument building.
As a result, an all koa ukulele will cost at least $1,000 and sometimes up to $4,000. Other native Hawaiian woods include: mango, milo, 'ohi'a, tropical ash, and kamani. While still rare, these woods will cost a little less than koa.
You can also find ukuleles that only use solid koa for the soundboard and use other non-native woods for the back, sides, and neck. Such instruments will still produce the coveted Hawaiian sound, but will be less expensive – soprano koa top ukes are available for around $400.
The most economical options for native tonewood ukuleles are the higher end models offered by the four major Hawaiian ukulele brands: Kamaka, KoAloha, Kanile'a, and Ko'alau as well as Mele Ukulele.
5. Artisan Hawaiian-Made Ukes
The Hawaiian brands Kamaka, KoAloha, Kanile'a, and Ko'alau are stream-lined family run businesses capable of producing hundreds to thousands of ukes per year. Individual builders, however, are only able to build a few.
For those seeking fully Hawaiian ukes that are made to order and 100% hand-crafted by a single builder, finding a local artisan is the way to go.
Kamaka, KoAloha, and Ko'alau also feature custom shops which operate similarly to artisans. Fully customized ukes can cost anywhere from $1,000 to $13,000. If you have your heart set on certain woods or specifications, be sure to discuss options with the builder.
Being able to design and confer on the build process of your uke is a big perk of purchasing a hand-made instrument. However, be aware that the process takes time. Many builders have a current wait list of 1 to 3 years or are so backlogged they are not currently taking new orders.
Prices for artisanal ukes vary widely, depending on the individual's set costs. David Gomes, Thomas Owen, Dennis Lake, and Sonny D. are just a few local Hawaiian builders. Their current prices run between $1,000 and $2,000.
Are Ukuleles Cheaper in Hawaii?
Generally speaking, buying a ukulele in Hawaii is not cheaper than buying a ukulele in your home state or country. However, there are a few possible loopholes to keep in mind.
If you choose to buy a ukulele in Hawaii, you will have to get it home somehow. Cost can increase if you have to factor in shipping or the price of checking an additional item on your airline. Many stores offer free shipping with purchase so always ask what your options are.
Most non-Hawaiian brands cost about the same in Hawaii as they do in the continental U.S. If you are considering buying a ukulele but aren't dead set on a Hawaiian-made uke, consider buying it at a store back home or online. One less thing to worry about on your trip!
There can be perks to purchasing a ukulele in Hawaii, especially if you are seeking a fully Hawaiian uke. For one, you can visit stores or builders and play a variety of different instruments before making your decision.
Best Ukulele Stores in Hawaii
Due to the increasing global demand for ukuleles, there are now many places selling these lovable tiny instruments in Hawaii. Here are a few of the top-rated stores to visit on your trip:
Hawaii Music Supply
This is the best-known ukulele shop in Hawaii. It is located in Haleiwa on the north shore of Oahu. They offer a large selection of ukuleles (according to some it's the most ukuleles they have ever seen in one place), fantastic customer service, expert set-up on all ukes, and they will ship your ukulele home for you.
Ukulele Puapua
This store opened in 1999 and now has two locations in Waikiki on Oahu, one in the Sheraton and one at the Moana Surfrider Westin. They carry a full spectrum of ukuleles from entry-level to the major Hawaiian brands.
The Ukebox
This store is relatively new, but is notably owned and operated by Bruce Shimabukuro, the talented brother of Jake Shimabukuro. It is located at the Pacific Beach Hotel in Waikiki on Oahu. The Ukebox offers superb customer service and ukulele lessons.
Bounty Music
If you're not on the Big Island, this family-owned store has locations on Kauai and Maui. They offer a large selection of reasonably priced ukuleles, including the major Hawaiian brands.
Mele Ukulele
Mele has three locations on the island of Maui in Wailuku, Wailea, and Paia. They boast a large selection of Hawaiian-made ukes, including Hulas and Meles made by their founding luthier, Michael Rock.
Kamaka Hawaii, Inc.
Kamaka is the oldest and most well-known Hawaiian ukulele brand. They offer free tours of their factory in Honolulu on Oahu, and allow visitors to play and purchase their ukuleles on site. It's a great way to try out a variety of the all-Hawaiian Kamaka ukes.
KoAloha Ukulele Factory
Hawaiian brand KoAloha also offers free tours of its new factory located in Kaka'ako on Oahu. Explore the creation process and maybe take home a KoAlana or KoAloha uke!
Ukulele Brands That Are Made in Hawaii
And here are some of the most notable ukulele brands that are made in Hawaii:
Kamaka
Kamaka is a family owned and operated uke manufacturer based out of Honolulu.
Founded in 1916, they are the oldest and most well-known of the local brands. Israel Kamakawiwo'ole played a Kamaka, and Jake Shimabukuro also favors the brand.
They offer nine different models including the pineapple ukulele, which was invented by founder Sam Kamaka in the 1920's.
KoAloha
This brand, whose name combines "aloha" and "koa," is also based out of Honolulu and started in the 1990's. It is a lot younger than Kamaka, but is also family owned and operated. They mostly make koa ukuleles, but do offer a budget line called KoAlana.
Kanile'a
Another Honolulu-based family run brand, Kanile'a is known for milling all of its own wood and creating beautiful inlays. They offer a budget line called Islander in addition to their high-end models.
https://www.kanileaukulele.com
Ko'olau
Started by luthier John Kitakis, Ko'alau gets creative with both designs and woods, mixing several non-native varieties with koa to create interesting sounds. In addition to their popular affordable line, Pono, they produce hundreds of custom ukes each year.
https://www.koolauukulele.com/
8 Tips for Buying a Ukulele in Hawaii
1.) Decide just how "Hawaiian" your uke needs to be.
Will it be a wall hanger? A gift for a child? An all koa specimen piece? Or just a decent starter uke? This will inform your buying decision.
2.) Don't expect ukuleles that cost less than $40 to be playable.
These are souvenirs only!
3.) Consider a soprano or pineapple uke for extra novelty.
The original ukulele was a soprano size, and the pineapple uke was invented on Oahu in the 1920's.
4.) Inquire about shipping options at the store.
Most stores ship for free with purchase, and store staff are often better at packaging ukes for shipment. You will also have less luggage to worry about!
5.) If you are flying your uke home yourself, loosen the strings before travel.
The cold air on the plane can increase string tension, which can pull the bridge off. Also be sure to pack your uke well to avoid damage.
6.) If you buy a ukulele with a solid top, be prepared to humidify.
Hawaii is naturally more humid than most places, so keep your uke at 40-60% humidity to avoid damage.
7.) Buy a padded gig bag or hard case and a tuner with your uke for immediate enjoyment.
Since you're traveling, a protective case is extra important. New strings take awhile to break in, so a tuner is also essential.
8.) Take that ukulele to the beach and start playing!