Today I'm going to give you an in-depth rundown of Mitchell ukuleles and answer whether they are a good brand or not.
I own a Mitchell MU-100CE/N and it's an eye-catching, great sounding, and well-constructed instrument. It certainly gets a lot of attention whenever I pull it out. Read on and I'll tell you all about it!
But first, let's start with a quick summary.
Mitchell is a good ukulele brand. As the house brand of Guitar Center, Mitchell offers several affordable, well-built, and exceptionally attractive instruments ranging from $45 to $300. They are especially well-suited to beginners and performers requiring flair and amplification.
Don't worry, I'll go into more detail on all of these points! Keep reading and I'll break down Mitchell's brand reputation, manufacturing process, and overall build quality. I'll also elaborate on the popular MU-100CE/N model as well as a few other great options.
Let's dive right in!
Mitchell's Brand Reputation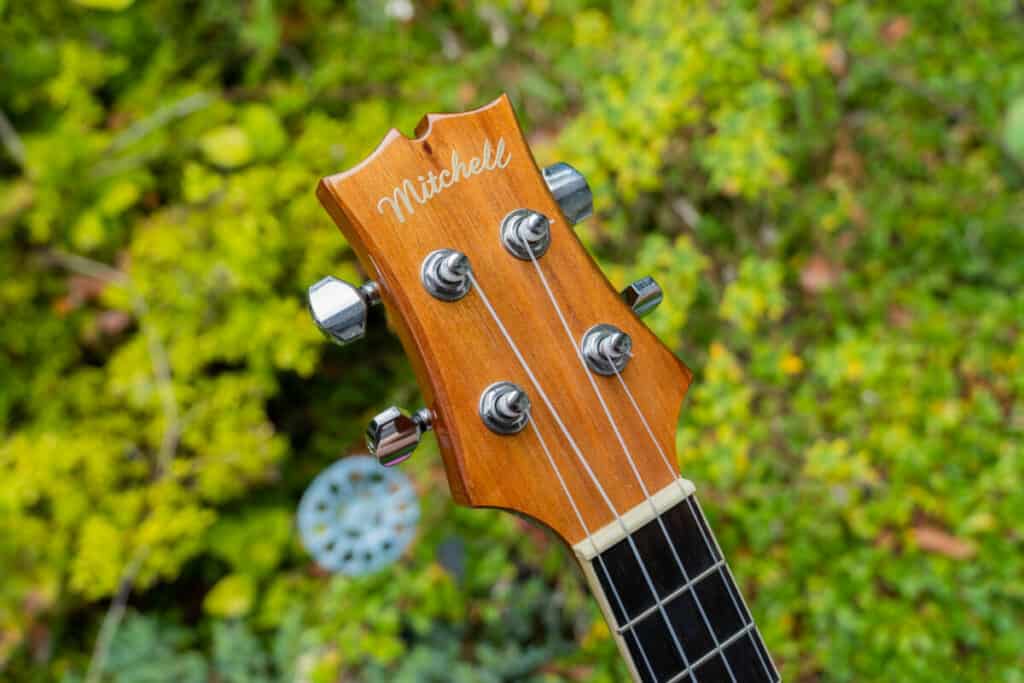 Mitchell ukuleles are made by Mitchell Guitars, a house brand of Guitar Center.
While its reputation has been tarnished in recent years due to bankruptcy brought on by the online age and the COVID-19 pandemic, Guitar Center is still considered a go-to source for affordable fretted instruments.
The brand Mitchell is named for Guitar Center's founder, Wayne Mitchell, who started the company in Hollywood, California in 1959.
The company first began as a store that sold small home appliances and organs but started selling guitars and amplifiers in 1964. By the late '60s, organs were no longer the main attraction and Guitar Center as we know it was born.
When ukuleles started becoming popular, Mitchell added an affordable uke line to sell in Guitar Center and Music & Arts stores as well as online via Musician's Friend.
While relatively new on the ukulele scene, Mitchell ukes have developed an overall positive reputation among players and are especially prized for their looks.
For what they are – affordable entry-level ukuleles – Mitchells are fine instruments and few people have negative things to say about them.  
Where Mitchell Ukes are Manufactured
Mitchell ukuleles are designed by luthiers at the company's headquarters in Westlake Village, California but are manufactured to specifications overseas in Indonesia.
This streamlined "design then outsource" model is the same used by the popular ukulele brand Kala and allows for more efficient production.
Are Mitchell Ukes Hand-Made (or Mass Produced)?
All Mitchell ukuleles are what you would consider mass-produced in that they are assembled in factories in large numbers, then distributed to stores all over the United States.
Mass production ensures that enough instruments are built to meet demand, which is always high for affordable ukuleles.
Still, the standards for production and quality are fairly strict compared to other ukes in the same price range and the end result is a lot of decently made ukuleles.
Mitchell's Build Quality (Compared to Other Brands)
Many lower-end ukes are plagued by sharp fret ends, unreliable tuners, intonation issues, and cosmetic blemishes, but Mitchell manages to avoid these common flaws.
Mitchell ukuleles are well-constructed, properly set up, and immediately playable. Their internal cavities are typically free of messy glue globs, indicating care is taken during assembly.
The tuning pegs are also decent, and, once the strings stretch in, staying in tune is no problem. (Check out this article on how to speed up the string break-in process.)
As with many budget ukes, you may also want to replace the factory strings. Mitchells come pre-strung with lower-end strings which may negatively impact their sound. Check out this article on string varieties to determine which one will make a Mitchell really sing.
Mitchell ukes are comparable to other well-regarded starter ukuleles made by brands like Kala and Enya and all models are a cut above those made by Mahalo and Amahi.
To sweeten the deal, Mitchell takes great care with appearance. While a few basic models are available, some of the higher-end Mitchells feature exotic woods, abalone accents, and well-applied finishes.
Hands-On with a Mitchell Ukulele
I own a Mitchell MU-100CE/N. This is a concert-sized electric acoustic model that falls at the upper end of the Mitchell price spectrum at $300.
This model is prized for its honey-sweet tone, all-koa construction, and electronic enhancements. The Mitchell MU-100CE/N comes stage ready with a Fishman KULA preamp and a built-in tuner – essential features for players looking to perform for an audience.
The back, sides, and top are made of koa – the prized Hawaiian wood considered ideal for ukuleles – although the top is laminate rather than solid wood which means the tone is less pure and the sustain is not as pronounced.
Of course, laminate construction also keeps this uke affordable and gives the player a taste of the koa magic without breaking the bank. It's not a bad deal considering solid koa ukuleles can cost thousands of dollars.
The Mitchell MU-100CE/N has a great tone, ringing out brightly and sweetly on chords and single notes alike.
The cutaway body shape even allows for up-the-neck note-picking, an important feature if you're looking to level up in fingerpicking. It plays easily and holds its tuning well.
This ukulele is on the quieter side, likely due to its heavy gloss finish. Luckily, this does not present too much of an issue, as it is equipped for amplification.  
What really makes this uke stand out is its appearance.
With its figured koa body, cutaway shape, high-gloss finish, and abalone inlay and purfling, the Mitchell MU-100CE/N has the look of a high-end ukulele. You'll be hard-pressed to find a more attractive instrument at a lower price.
If you want a ukulele that looks and sounds fantastic and can hold its own on stage, this is the instrument for you. It is one of the flashier ukes in my arsenal and I get compliments on it all the time.
Who Should Buy a Mitchell Uke? (Beginners, Intermediate, or Professional Players?)
Like most instruments offered at Guitar Center, Mitchell ukuleles are affordable instruments best suited for beginner and intermediate players. They are also a great choice for those looking for an attractive but inexpensive instrument to perform live with.
Professional players will likely find Mitchell's current offerings limiting, although there are a few well-made solid top ukuleles available such as the MU-T70S, a tenor uke with a solid spruce top.
Beginners
Mitchell ukuleles were designed with entry-level players in mind. They are fairly inexpensive, yet are easy to play, stay in tune, and sound clear and vibrant.
Basic acoustic models with natural finishes range from $45 to $80. For the true beginner, a number of starter kits are also available.
One price step up to the $100 to $180 range gets you additional options, including models with solid tops, more decorative flair, and electronic amplification capabilities. The $100 MU-75NM natural mahogany model is a great choice.
Lookswise there is something for everyone, with many shapes, finishes, sizes, body shapes, and colorful exotic wood options available.
Intermediate Players
Mitchell is also a good choice for the ukulele player who has mastered the basics and is looking for an attractive and affordable step up.
Higher-end models range from $240 to $300 and feature figured woods, unique colors, inlay accents, and add-on capabilities such as preamps and built-in tuners. These features are especially useful for uke players looking to perform for an audience.
Performers
If you are looking to perform for an audience and need a durable budget uke suited for the stage, Mitchell is a good choice. For $240 to $300, you can purchase a good-looking stage-ready instrument with a built-in preamp and tuner.
The MU-100CE/N is a great choice for a budding performer. With its figured koa and abalone accents, it has just the right amount of pizazz. In addition to koa, quilted maple, quilted ash, and spalted maple options are also available.
Influencers
Mitchell also makes unique, eye-catching ukuleles that are sure to stand out on social media.
The popular abalone-accented quilted maple MU-80XCE model comes in both purple and blue, the MU-75BK comes in a glossy black with glittery silver purfling, and there is also a glow-in-the-dark Halloween design.
If you're looking for online engagement, these flashy options are definitely conversation starters.
Of all the ukuleles I own, my Mitchell gets the most compliments and inquiries. And it's not just a pretty face! It's a reliable and sweet-sounding instrument that sounds especially great plugged in.