Guitars can be expensive…but they don't have to be!
If you're a beginner or on a budget, here's how much you'll really need to pay for a guitar that does the basics and helps you progress your skills.
Let's start with acoustic guitar prices, then we'll look at electric guitars as well.
Average Cost of Cheap Acoustic Guitars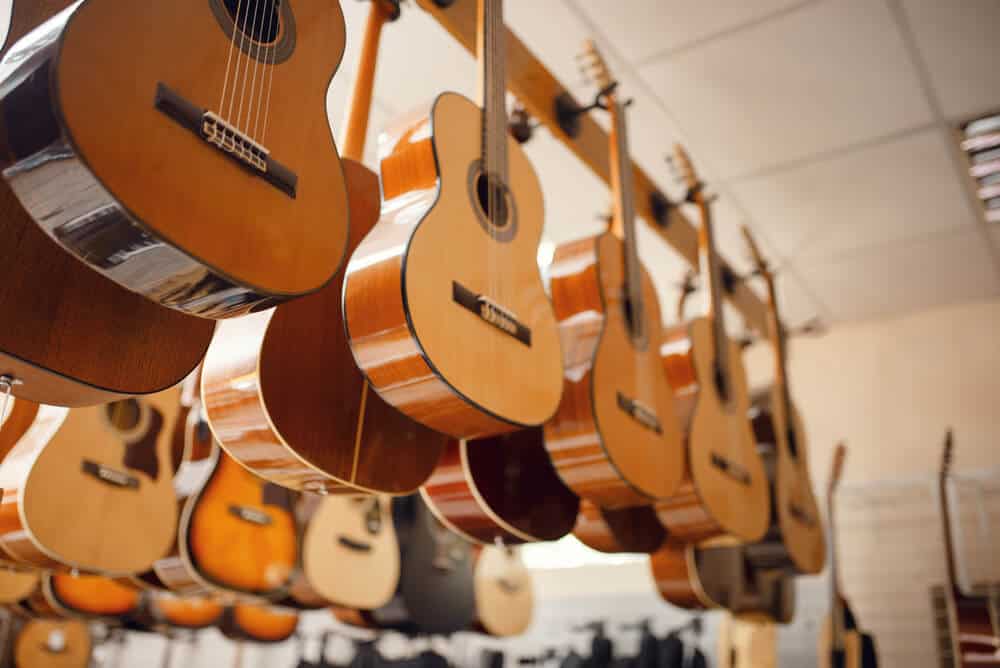 You can find an entry-level acoustic guitar with no unnecessary upgrades, features, or finishes for around $200-250. This price range keeps costs down so you can buy other necessities (like picks, replacement strings, and a strap) while providing access to a decent selection of options and body styles.
You can certainly spend thousands on an acoustic guitar, and while you'll end up with an instrument of fantastic quality at that price, there are literally hundreds of options to choose from that fall below the $400 maximum price set in the examples section below. 
The $100-500 price range is probably where the relationship between cost and quality grows the most exponentially. As you look at more expensive instruments, quality will still improve, but that positive relationship will begin to taper off. 
In other words, there is a huge difference in quality between a $100 and a $400 guitar. But between a $4000 and $5000 guitar? Not so much. 
9 Examples of Basic Budget Acoustic Guitars
Acoustic Guitars Under $200
For less than $100, you can be well on your way to learning your favorite acoustic songs.
The Rogue Dreadnought is a great place to start. The Dreadnought (the most common acoustic body size) provides plenty of resonance for a robust sound. It's relatively basic, and lacks the fit and finish of more expensive guitars, but this is to be expected at this price.
If you're just starting out or looking for a guitar on a budget, this offering from Rogue won't disappoint.
For $55 more, the Epiphone PRO-1 Dreadnought stands out with a higher quality spruce top and mahogany neck, an EZ-String bridge that doesn't require bridge pins to hold the strings, and a thinner profile that will make it more comfortable for a wider range of players. 
Since an acoustic guitar doesn't rely on internal electronics for sound production like an electric guitar does, wood quality is even more important. Spruce and mahogany are standard on many guitars, even those at a higher price-point, so the extra money is well worth the upgrade.
Most entry-level guitars around $100 will have the Dreadnought body style. Once you get closer to $200, other body shapes start popping up.
Consider this Parlor size guitar from Fender. It's much smaller than a Dreadnought, and its design produces a warmer tone, making it well-suited to folk and blues musicians. 
Acoustic Guitars Under $300
Moving above $200, you'll start to find acoustic-electric guitars. Acoustic-electrics are definitely much more acoustic than electric: they are amplified to a degree but aren't able to achieve the wide range of sounds and tones as a true electric guitar with an amp. But for those who want an acoustic, only louder, they're a great option. 
The Yamaha Thinline is a great budget intro to this category. The electric components provide volume and tone control, as well as an internal tuner. Pretty handy if you haven't mastered tuning by ear and don't want to rely on a tuning app. 
Next up is an interesting offering from Ibanez. A Grand Concert acoustic sits between a Parlor and Dreadnought in size, and achieves a volume and tonal balance somewhere between the two. 
At $40 more than the Yamaha, the Ibanez acoustic-electric is built completely from mahogany and features more advanced internal electronic components.
Classical guitars are designed with a specific sound and tone in mind. If you love traditional Spanish guitar music, a classical guitar is what you'll want.
This Dean Classical Plus features cedar construction, which provides the unique tone desired by classical guitarists. Because it's a specific instrument made for a specific sound, it will be a little more expensive than some other offerings, but this is still a great price if that's the sound you're after. 
Acoustic Guitars Under $400
Once you move beyond $300, acoustic guitar fit and finish improves quite a bit. This isn't to say a cheaper guitar won't work for you: it certainly will, but spending a little bit more up front means you'll end up with a better sounding instrument that will probably last a good deal longer, assuming you take care of it. 
A great example of this is the Yamaha FG830. Compared to the sub-$200 guitars, the Yamaha is designed and internally braced in such a way that provides louder sound, especially with mid-range and bassy notes. It also pays more attention to the little details, like an abalone inlay around the soundhole. A nice touch. 
Let's take a look at an acoustic-electric offering at this price-point and see what you get compared to the less expensive options mentioned previously.
For starters, this Fender is made of mahogany, which not only looks pretty good, but produces a warmer, smoother tone compared to spruce. It also features a "name-brand" preamp rather than one made in-house. 
This may not matter much to you, but consider the difference between a preamp made by a guitar company, and a preamp made by a company that focuses solely on making preamps. Which do you think will be better? 
Last but not least on our acoustic list, we have one of the most iconic, most beautiful guitars ever designed…though as an owner of a Hummingbird, I'm slightly biased!
Though nearly $400 may sound like a lot, the Epiphone Hummingbird is a budget-friendly, acoustic-electric replica of the Gibson Hummingbird acoustic guitar…which regularly sells for thousands.
The reason this guitar is more than the others on the list most certainly comes down to its name and heritage, so while you don't need to spend this much to get a great acoustic guitar, perhaps the design and history of the Hummingbird just speaks to you.
After all, if the Hummingbird is good enough for Keith Richards, Tom Petty, Bob Dylan and Dave Grohl, I'm sure it's good enough for the rest of us.
Average Cost of Cheap Electric Guitars
Now let's shift over to electric guitars.
A cheap electric guitar of decent quality can be purchased for around $300-350. Due to their more advanced design and need of electronic components, cheap electric guitars will be more expensive than cheap acoustic guitars. This price range still affords a good variety of options for players of all genres.  
That being said, you will be limited to solid-body guitars for the most part, as they're the cheapest to mass produce. If you're looking for a basic hollow or semi-hollow body guitar, you can expect to pay more than $400.  
9 Examples of Basic Budget Electric Guitars
Electric Guitars Under $200
Epiphone is Gibson's budget-brand of guitars…but budget doesn't mean low quality. In fact, many guitarists from popular bands choose Epiphone guitars (even though they certainly have the money to choose any guitar they want). 
Coming in under $200, this Epiphone SG is about as cheap as you can get for a good-quality guitar that has everything you need and nothing you don't. A SlimTaper neck improves playability, especially for beginners, and dual-coil pickups (also called humbuckers) minimize unwanted string hum and noise. 
All in all, a great first guitar that looks pretty cool too. 
The Fender Stratocaster is probably the most replicated electric guitar design of all time. But why buy a replica when you can have the real thing from Fender's budget-brand, and for less than $200?
This Squier Strat has single-coil pickups for those who prefer a brighter, thinner sound…great for blues, rock and anyone who prefers jam session soloing over the aggressive chords found in most hard rock and metal genres. 
The HT stands for "hardtail" which means this guitar won't come with the iconic Floyd Rose bridge or whammy bar typical of most strats, but for beginners a hardtail is easier to play and stays in tune longer.   
If you do want to start off with a floating bridge however, the Ibanez GRX70QA (terrible name, great beginner guitar) is for you. 
Here you have the ability to bend notes up or down to your heart's content. You also get a combination of pickups: two dual-coils at the neck and bridge positions, and a single-coil right in the middle, along with a five-way selector switch to choose which pickup(s) you want to turn on.
This guitar's versatility is great for those who aren't quite sure what kind of music they want to play yet…or for those who want to play it all! 
Electric Guitars Under $400
If you go above $200, you'll start to see some features not found on cheaper guitars.
This Squier Telecaster is a prime example. At this price, you get two covered humbuckers. In our cheaper examples, all pickups were uncovered, meaning the magnets below each string are exposed. Covered humbuckers produce a warmer tone and cut down on electrical interference from your amp or surrounding electrical fields. 
Are covered humbuckers better? Maybe, depending on the music you like to play. If you want a more aggressive music with a darker, bolder sound, you may prefer these over uncovered pickups. 
Also of note, a Telecaster at this price point comes with two volume and tone knobs so you can adjust pickup sound independently. This isn't crucial, but it's much more convenient if you switch between pickups a lot and want each selection to sound a specific way without needing to adjust the volume and tone each time.
Keeping up with their terrible naming tradition comes this sweet selection from Ibanez. 
For just under $300 you get a beautiful double cutaway with covered humbuckers and a Floyd Rose bridge. This allows you to get those warmer tones while also adding in as much tremolo and dive bombing notes as you'd like.
It also comes in a purple and gold color scheme I'm sure Prince would have approved of. 
Let's take a look at another, yet more expensive, Epiphone SG and see what that extra money gets us. 
Compared to the SG Special-I, the Traditional Pro model comes with covered humbuckers, dual volume and tone controls and a more robust fit and finish: notice the neck of the Special-I is secured to the body with four bolts, while the Traditional Pro is glued and secured with a single strap bolt for a cleaner look. You also get fancy pearl fret inlays that look a little sharper.
While some of these changes are purely aesthetic, you might appreciate the sturdier construction and improved overall quality and adjustability. If you can afford it, the extra cost is well worth these upgrades. 
Electric Guitars Under $500
Once you cross the $400 threshold, this is where your choices open up a bit more. 
Take this Les Paul Special for instance…another iconic design favored by thousands of musicians of all genres. If you can get past the vintage yellow color (or maybe you like it!), you'll notice the unique P-90 pickups. These pickups have more mid-range and treble, meaning they'll produce a brighter, twangier sound…very 50's and 60's rock. 
This sound might not be for everyone, and you can certainly find a great guitar with single or dual-coil pickups at this price, but it just shows that more options are available to you the more you're able to spend.
Up until now, all of our options have been solid body guitars: this makes sense, as they're less complicated, which makes them cheaper to produce. But hollow and semi-hollow body guitars enter the playing field in the mid-$400 price range.
Gretsch is one of the most recognizable guitar brands designed for jazz, blues and folk rock genres. Their open body designs have more resonance (similar to an acoustic guitar) and are much better at producing mid-range and bassy tones. 
These guitars can also be heard without an amplifier…not as loud as an acoustic, but great if you want to practice without an amp to keep your annoying neighbors from complaining about your jam sessions. 
The Gretsch Streamliner is a great looking guitar for those interested in bringing out their inner B.B. King and playing some smooth, bassy jazz. 
At the top-end of our price range sits the Schecter Demon-6. Schecter is known for making guitars that shred, and are favored by hard rock and metal guitarists. But they're versatile for a variety of other playing styles as well.
The main feature to note here is the Demon-6's use of active pickups. Schecter's Diamond Active pickups can produce more output, gain and distortion with less background interference compared to passive pickups. 
Active pickups do require a battery (typically a 9V) installed in the back of the guitar, so that's an extra minor expense, and you also need to remember to change it out before it dies. But if you're looking for a guitar for playing your music loud, aggressive and with high output and distortion, a model with active pickups like this Schecter will be the way to go.
What You Get (and Miss) with Cheap Guitars
Buying a budget guitar will obviously save you a lot of money, but there will be tradeoffs. So let's look at the pros and cons of buying a cheap guitar:
You Get
1. A Good Learning Platform
If you're a beginner, an expensive guitar just isn't necessary. As a new musician you aren't playing at a level to notice intricacies such as different wood types, pickup styles and orientations or scale lengths. Just get something you like that doesn't fall apart when you play it. 
And if it turns out that guitar just isn't for you, at least with a budget guitar you haven't wasted a lot of money.
2. Everything You Need to Get Started
Even the cheapest guitar will be ready to play right out of the box. No "batteries not included" issue here! Of course, that doesn't mean your guitar will include picks, an amp or amp cable…but those items typically aren't included with any guitar, no matter how expensive it is.
However, you can find beginner electric guitar packages which include these items, so if you want to save some additional money these might be worth a look. 
You Miss
1. High Quality Components
A budget guitar is going to come with budget hardware. Your pickups, tuning pegs, strings and internal electronics are going to be relatively low quality compared to higher-priced guitars.
As you get better, you'll begin to exceed the limitations of your entry-level instrument. Once you play a more expensive guitar, it will be pretty easy to notice the differences.
A benefit of these higher quality components is they tend to last much longer. With a cheap guitar, you might notice your strings break more frequently, your guitar loses tune quickly, or the pickups stop working one day, signaling the internal electronics are dying. 
A cheap guitar's average lifespan is quite a bit shorter than a more expensive guitar.
2. Superior Build Quality
Overall, a cheap guitar just won't be built to the same quality standards as a top of the line model. You may notice the wood body cracking, the joints separating over time, and the finish fading. Cheap guitars are mass produced and aren't given the same level of attention as a handcrafted instrument. 
It may be worth spending a little bit extra up front for a better guitar that will last a lifetime rather than choosing the cheapest you can find, then needing to replace it after a year or two. 
3. More Guitar Body Style Options
The cheapest acoustic and electric guitars are limited to a few body styles. For acoustics, this means a Dreadnought shape for the most part, while electrics are offered in a solid body design only. That's because these are the easiest body styles to mass produce for the lowest price possible. 
Spending more expands your options considerably. You'll be able to find an acoustic in any shape or size you want, and now any hollow or semi-hollow body electric guitar will be at your fingertips. 
If you've got your heart set on a specific guitar design or model, you may need to spend a little (or a lot) more to get it. 
The Cheapest Guitar You Can Buy
Now, if you're not particularly concerned with getting a quality instrument, and you just want to get the cheapest guitar possible, then here you go:
The cheapest acoustic guitar on the market currently is the Martin Smith Acoustic Guitar Kit, which comes with a strap, picks, tuner, and extra strings for about $38. And the cheapest electric guitar currently available is the Rise Beginner Electric Guitar Kit for about $90.
This is assuming we're filtering out any guitars that are not full size. Miniature guitars can achieve similar sounds and may be good choices for kids who are just learning, but they don't have the same scale length so their applications will be limited for adults and anyone who's past the beginner stage.  
And prices also fluctuate, so at the time you read this the lowest of the low priced guitars may have shifted. But this at least gives you an idea for what the bottom of the price range looks like (i.e. under $50 for acoustic, under $100 for electric).
Despite the low cost, the reviews for the Martin Smith are surprisingly good, however, many of the negative reviews claim the guitar doesn't hold a tune well and is constructed poorly. Some even claim tightening the strings caused the neck to bend or even break. This is potentially a good choice for kids or for someone who only intends on playing once in a while, as it may not hold up well in the long run.
And the Rise also may be a good choice for kids or those who don't plan on playing a lot, but the negative reviews often list poor build quality, missing items, broken amps, and other electronic issues. So you may not get much for your purchase.
How Much Beginners Should Spend on a Guitar
When it comes to guitars (as with all things), you get what you pay for. 
A guitar is one of those products that if built poorly, won't sound like it should. And sounding good is its only job. So while you don't need to spend thousands to get a decent guitar, you shouldn't go right for the cheapest guitar on the market. 
My recommendation is to start looking at acoustic or electric guitars around the average prices listed above, but if you can afford to spend a little more (around $100 more than the averages), do it. 
Guitars around those average prices will provide the basics, but spending a little more will expand the options available to you and get you a higher quality instrument that can last a lifetime if you take care of it. 
It's far better to spend a little more money up front than to keep replacing a cheaper guitar because it just can't hold up to regular playing.